Can You Crack An Optimizer?
Well, I did.
I cracked it bad, so now I can show you a detailed 6.5 rebuild! YAY!
I cracked it so bad that there was a genuine chance that if I had missed it and went ahead with the initial build, I would have lost the whole #2 main web into the oil pan (yeah, it's happened before). 
But, thank God that while bs'ing with a friend about the build, I happen to have the light just right and saw the crack had actually extended all the way down into the cylinder.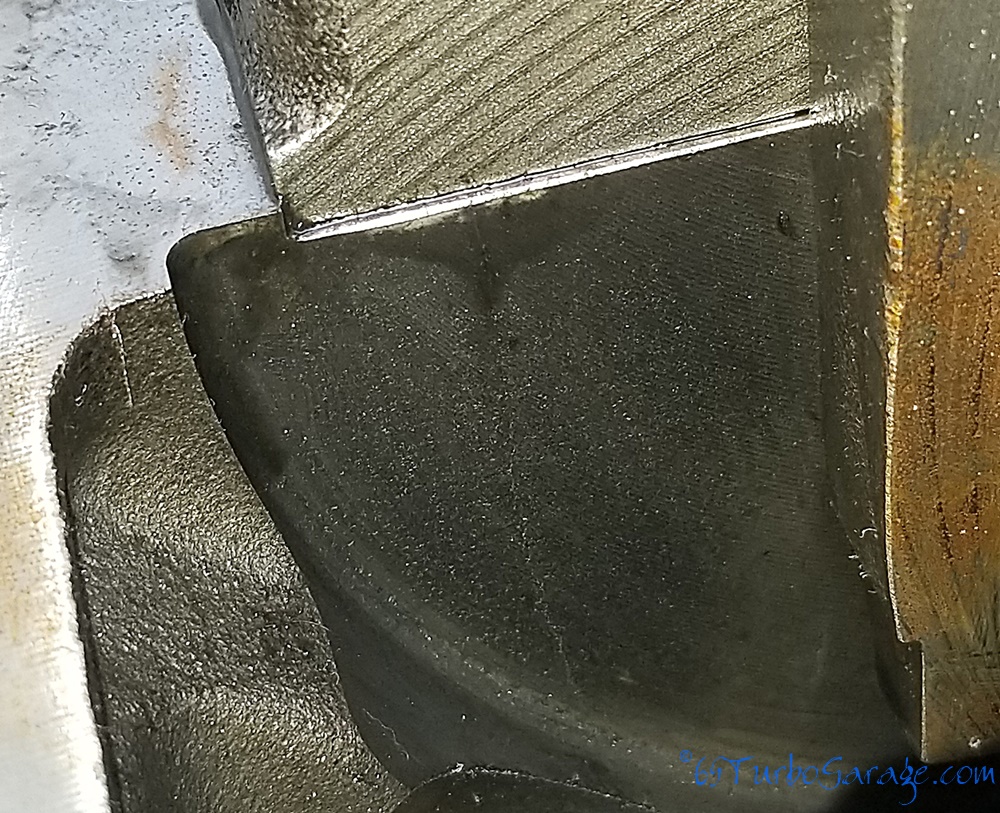 A common place to find cracks is in the main web right down in line with the bolt holes
This is a picture of the number two main web from the outside bolt hole down towards and into the cylinder itself.
Crap, my first junk block is an Optimizer.
Yes, you can fix a block. You can weld them, and you can use a process called Lock-n-Stitch that is commonly used that is a permanent fix (I look forward to trying this out someday), but it is only good for fairly short cracks. What it really boils down to is that the cost of repairs can quickly become more expensive than buying a crack-free block and starting over.
- BTW, this covers a lot of information so can get a bit wordy. So just skip ahead if you ain't got time fo' dat!
What Is This "Optimizer" and What's The Big Deal?

Optimizer blocks and heads were designed and built by Navistar, the same Navistar that designed and built the Ford 7.3 and many others. And they crack too. 
Without getting into some controversial details (people will argue about anything, won't they?), the Optimizer was designed by GM and AM General and cast by Navistar, or some combination of those, but they are a re-designed GM block with improvements to the cooling passages and added molybdenum in the block and more chromium in the heads (and hardened valve seats) to improve the cracking resistance of both. And from everything I've read and learned, it "solved the issue". 
Huh, kinda like Arnold saying "the science is settled!" cause again, I broke it.

At least I can crack them. But then, my mom was right, I can break damn near anything. 

However, to be clear, if you knew everything that I put this poor motor through, well, you're a goofball if you believe that Optimizers crack just like GM blocks do, because they don't. I had to go through a lot of effort and trouble just to get it to crack and I did it just for you, dear reader! (I refer back to my goofball comment if you believe that)
But waitaminut, let's back up some here...

The Story

(The story of a mans fairly short journey through semi-major engine failure and semi-total engine rebuild. )
If you've read my first blog entry, you know the details as to what brought me here and in this article I want to cover my 6.5 rebuild in detail and what work needed to be done in order to get me back on the road in as little a time as possible.
Yup, I had finally experienced something that so many others have been through. A major breakdown leaving me on the side of the road. I've been driving since I was 7 years old and have put over a half million miles on all different vehicles and have never had a core engine failure on me. 

Everything else around it has made itself know over the years, radiators, injection pumps, tires, bearings, rocker arms, etc. But I never HAD to tear into the innards, every time I did, I WANTED to tear into the innards. I guess it's about time.
But really, if you punch a brick wall long enough and hard enough, something will crack. So let me go through some of the things that I did to this poor motor...
Recipe For Crackstruction

First was the assembly.
The motor was a military take out from Ted's and was in great shape, I would buy another from them again (as a matter of fact, I plan on it). But it has to be said that I didn't know the history of this motor. I don't have any reason to think it was a bad one, it had great oil pressure, the hash marks were still clearly visible in the cylinders and it still had assembly lube in parts of the motor so everything looked like it had very low miles and was in great shape. But who knows what kind of life it had before I got it? Who knows what kind of booger picker had been driving it and was responsible for it?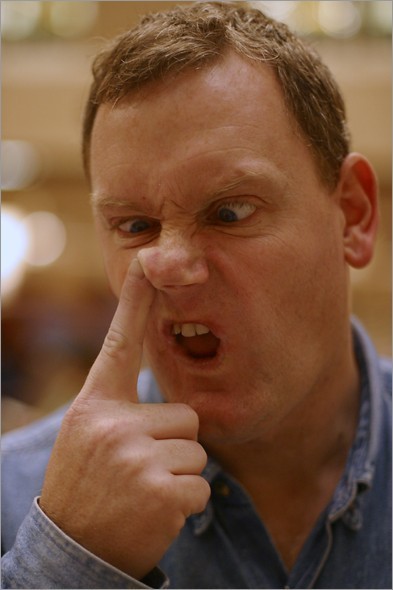 Booger Picker
So I removed the heads to install ARP head studs and was reminded of a couple things that worried me a bit...

This motor came out of a naturally aspirated HMMWV. This was necessary because the turbo versions had a center mounted turbo which has slightly different heads and wouldn't work with my truck. The concern here was that the pistons were not coated like the turbo versions are to handle the higher heat of the combustion chamber. But after a bit of research, I found the consensus was that they would would be fine. While that didn't really sit well with me, I went with it. Mostly because I was stuck with them. And in truth, they would be fine in an otherwise stock motor, but this thing wasn't going to be very stock.

Also being naturally aspirated, the heads had some of the smallest precups made for these motors. And while this is one of those things that people don't seem to agree on, I believe the theory that they run hotter and certainly don't allow for as much power as the later design precups. This one did make sense to me but again, because of time and money constraints I was stuck with them.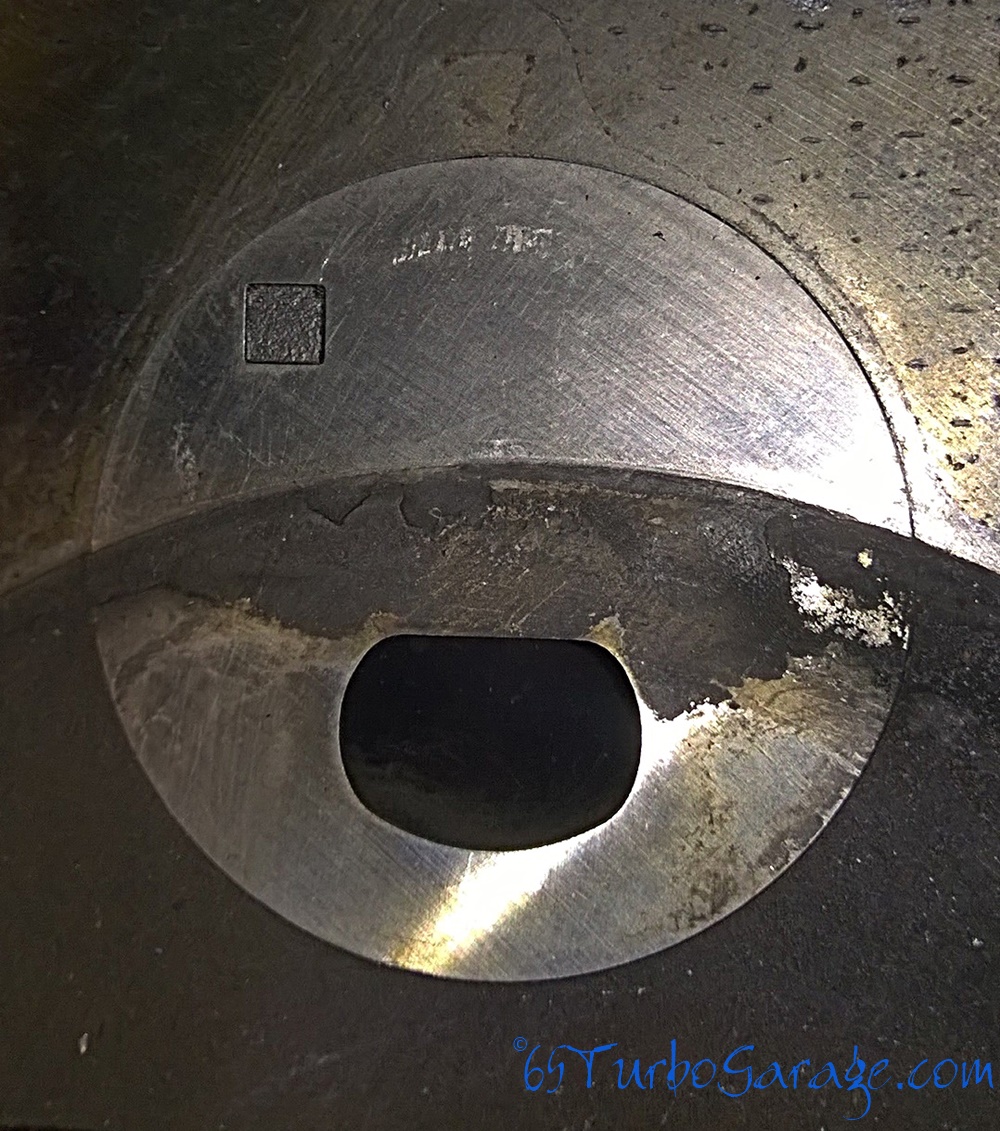 The Smallest "Square" Precups Hold In A Lot of Heat
The common theme here is heat and was exacerbated by several other major issues that all conspired in the destruction of my block and pistons. 

1. I had bumped up the timing quite a while ago. Snappier throttle, more power, crisper running, all things that make me feel fizzy inside. But, as I was researching engine failures to find a cause to this mess, a few pictures of some other's failed pistons caught my eye. They looked a lot like mine.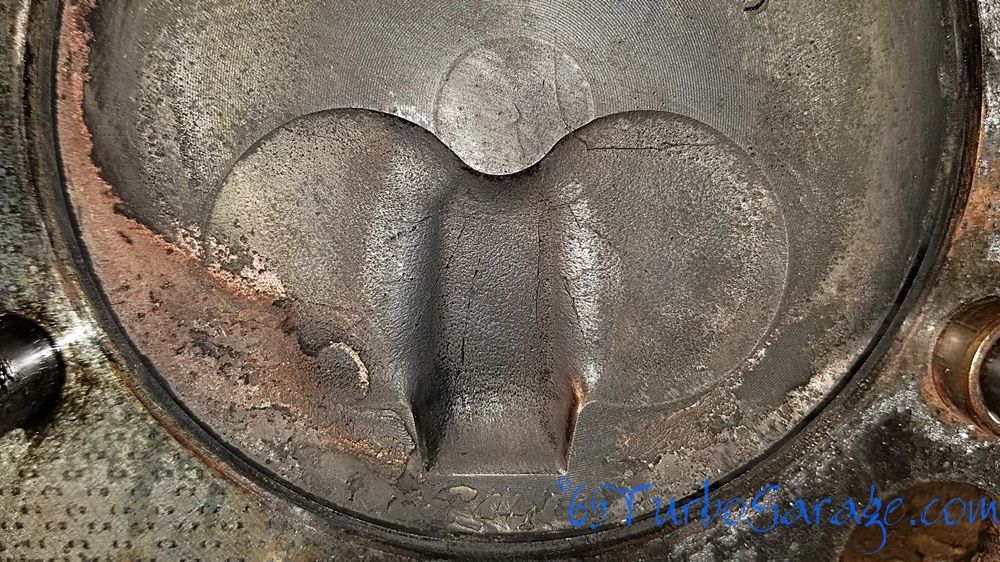 Spider cracked 6.5 piston tops from high heat and advanced timing
Advanced timing was identified as the culprit. 

2. This was all before I solved my overheating issues with the standard cooling mods and the Champion radiator so all the heat attacking the piston tops wasn't able to be removed with a sub-operating cooling system. 

3. The first day I had it running, I found out that there was one screw that I didn't tighten. I found that out when I went up my first steep hill and found out that the screw was on the top radiator hose. Bam, hose comes off and I subject my motor to it's first thermal shock the first day.

4. The injectors I ended up using were rebuilt by a local shop and I was always unhappy with the injectors. They were dirty, obviously poor rebuilds, and weren't even reassembled properly. I'll go into a little more detail why this is significant when I get to installing the new badass injectors.
And let's not forget that this motor was hydrolocked at one point. 

I can almost hear some guys screaming "WHAT? You mean I can't hydrolock my motor, overheat and over advance the timing, run bare aluminum pistons, shove a bunch of burning fuel through crap injectors and a tiny hole with a poor cooling system without this piece of crap melting down?!! I'm buying a Cummins!!". (They'd have to take a breath in there somewhere and clean the spittle off the corners of their mouth.)
Oh...
And then there's the water methanol. : )>
Actually, the water/meth is probably what helped it not melt down sooner under a heavy load. It actually cools everything down and helps prevent preignition.
But Wait! There's More...
The last bit of damage (what? there's more? Yes, leave me alone) was also caused by me (I CAN build good motors, honest!). 

When installing timing gears, you have two idler gears that transfer the rotating force rather than a chain. Those gears should just slip right in between the crank and cam gears as you wiggle them back and forth to get them lined up. Well, I couldn't get them in so it was decided that my block may have been line bored in the past that changed the clearance relationship between the cam and crank requiring a smaller gear. So I got one coming, installed it, and moved on. 
Some time after getting the truck back on the road, I got to thinking that I had not removed my flywheel lock when I installed the gears and so couldn't get the right wiggle to fit them right, which meant that I likely had an idler gear that was too small. 
Sure enough, when I removed the oil pan at the start of the teardown, there was an ear to a circlip at the bottom of the pan. Where could that have come from? 
Yup, the gears had fit so loose that they really worbled around in there, eventually broke the clip, allowing the gear axles to hork out the housing they ride in and some metal to get into the bearings and causing a big trench to be gouged out. 
Luckily, no damage to the crank, rods, or any other hard part could be found.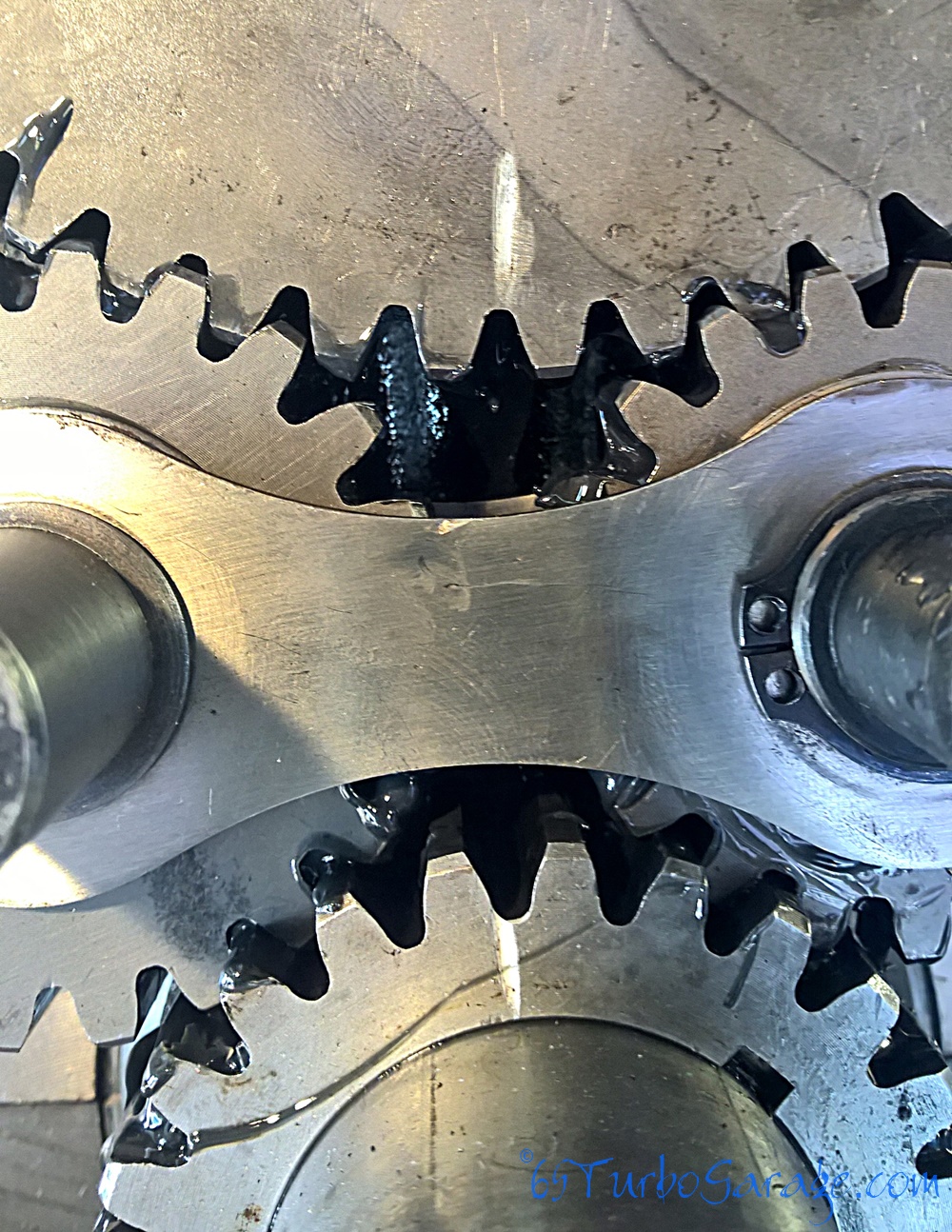 Loose DSG Timing Gears on 6.5 Diesel
I have to admit, I am pretty surprised at the amount of cracking the block showed though. But with the pressure of hydrolocking, advanced timing, and how horribly out of balance these engines normally are all coupled with the fact that I had no opportunity to magnaflux this block to check for cracks before the build, I guess it's not too hard to accept.
Here's the amazing thing...
You know those annoying self-help, "think positive" types? Well, I'm one of them.
I caused this whole trip starting with a blown head gasket but everything that you read above was happening without me even knowing it. 
Think about that. When something bad happens, some people will say that it's an opportunity for something good to happen. I was kidding a little bit about the think positive thing, normally I get pretty bent out of shape when these things happen, but man, I hate to imagine what kind of carnage would have happened if I hadn't caused the head gasket issue and it had grenaded some time later on it's own. 
Like I said above, the crack would likely have ended up in the oil pan. 
---
OK, So What Now?

Well, we start with not making the same mistakes and we do that starting with the block and I'll use every trick that I know to prevent any cracks.
I had to decide how far into the motor I wanted to get. Few of us have all the time and money in the world to do exactly what we want to our motors when it comes time to work on them so everybody has to decide their own balance. Don't let anyone push you into a place that you don't want to go, you have to decide for yourself. But do give it some real thought. 
My main job is balls to the wall or none at all and I've been in the none at all for quite some time now, it is time to go balls to the wall. That means I don't have the time to do a ground up rebuild, I need to get back to work. 

Well, that's what I thought at first. 
As it turns out, like I said above, the block ended up being junk. So don't ever get set in what you think you need to do. Always be ready to fine tune your plan a bit.
The "none at all" part of my job was starting to kick my butt, I didn't have the total funds to do a full rebuild. For me, this is what credit is for. I rarely  use credit for anything so I had that available for me to get this done. But now, time to pay it off!
I will probably not have a functioning shop to work in for some time so I needed to get this project done before full winter hit.
6.5 Reboot

The plan
O.K., so that's where we're at and where we're headed! 
---
Enough Yapping, Let's Get To The Work!
Tools

Jack Stands
Standard Wrenches
Standard and Phillips screwdrivers

Parts


Material
As a reminder... This is the process on my '93 so yours may be a bit different.
To start, I'll touch on some prep in the event that someone is in the same, wonderful place as me and doesn't have a real place to work. Since cleanliness is so very important when building a motor, having everything under cover is a must. Not to mention the coming weather. So I invested... and I use that term very loosely, in a cheap, metal pole, car port structure thing that is quite frankly, a piece of crap. But, with the improvements that I'll make, it will serve the purpose well enough for little money and very little time.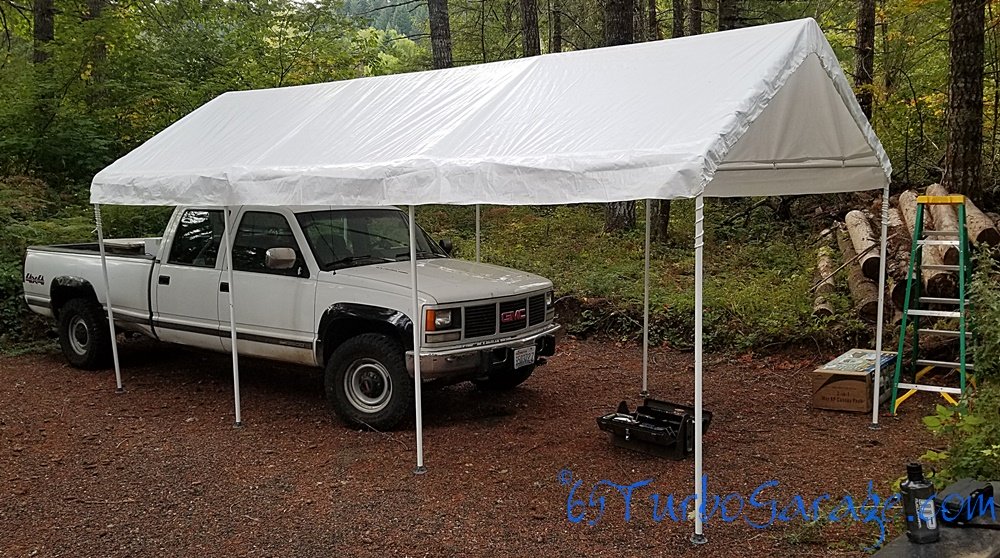 I bought a carport tent shelter for around $280 (at the time) and used self drilling screws at every joint when I put it together, then I weighted down each leg. Strengthening it this way has helped it survive frequent wind storms so far. The only real issue will be if we get a significant amount of snow, and then I will just have to be diligent in keeping the roof clear. 

Otherwise, it will work fine for getting this motor built.
---
Let's Start At The Very Front

There are two things that you can do to make engine removal much easier.

Remove the radiator core support
remove the passenger side inner fender
One I've done many times, pulling the inner fender is something that everybody should be able to do as it makes so many jobs much, much easier.

The other I've always wanted to do but it seemed way more than I wanted to get into. But I was determined to figure it out this time and boy I'm glad I did. It was a lot easier than I thought it would be and man, does it make things nicer to work on.
---
And before we move further, safety.

Loosen all the front lug nuts, jack up the truck, and put some good, quality jack stands under it. Put them back farther on the frame than you usually would so you'll have room for the engine hoist later. Pull all the lug nuts off and the wheel, then put all the lug nuts back on the studs so you don't lose them and they will protect the threads from getting whacked. Roll the wheels out of the way and stack them somewhere.
Now you are ready to pull that motor free so we'll get to that next!

The Monsters Free, Let's Tear It Apart!

Thank You! Your Likes Matter!