Maximum 6.5 Diesel Cooling!
Do you need maximum 6.5 diesel cooling?
I'm going to show you not only Champion Cooling System's beautiful, quality, all aluminum radiator but I've also collected before and after temperature data while towing a 5200lb RV at freeway speeds.
You'll see that Champion's radiator, along with the standard cooling upgrades means no more overheating your GM 6.5 Turbo Diesel.
---
I Was Wrong

I mean, I didn't invent this stuff, I just learned it from someone else much smarter than me just like you did.
And what you learned, and what I learned is that the standard cooling mods, the balanced flow pump, Hayden 2886 fan clutch, and the Duramax fan would likely solve all your overheating issues. And really they were right, but I feel like they should have told us more. So thats what I'm going to do now...
I'm going to tell you more.
No More Cheap Crap That Ain't So Cheap

As you know if you read my article on upgrading the 6.5 water pump, the cooling systems were sorely lacking when the motor was first introduced but can be fixed fairly easily. However, unlike the poor initial design of the water pump and fan clutch, the radiators were actually of adequate capacity and made from aluminum for its superior cooling properties, but that meant it would generally need replacement within about ten years or so due to corrosion.
While there are aftermarket ones out there, there isn't a large pool to draw from. There are copper ones available too, but after going through two Spectra copper core, brass tank radiators that cost over $400 each, I can tell you stay away from anything made by Spectra. I have never seen such a complete piece of crap automotive part. Total self destruction in just a few months on BOTH radiators. Griffin radiators can make any radiator that you may need but you'll pay a pretty penny for it. And there are a few others but nothing clearly identified as THE answer to a better radiator.
| | |
| --- | --- |
| Spectra 6.5 diesel radiator neck self destruction | Spectra 6.5 diesel radiator top self destruction |
But when my last Spectra self destructed, (Hey Hinkle, why buy two pieces of crap, didn't you learn the first time? Eh, there's a good reason but it's a long story) I thought it would be a good chance to test this new radiator made by Champion Cooling systems.
So there I was with another radiator peeing green all over my driveway, knowing that it had to be replaced, but I had some time before total destruction.
I realized that we had an opportunity to fill a need in the 6.5 community; a quality radiator that could provide maximum cooling for a decent price for our rigs.
 I started making calls and sending e-mails. 
Michael Harding is the Director of Marketing at Champion and was immediately interested in a test that would show the efficiency of the Champion Radiator over the stock style radiator. So he turned me over to Matt, the Director of Product Development. Matt was quick to tell me that they were eager to provide the radiator for testing if it would help show that there is a better product available for us. 
There was one issue with these radiators; they were only available for the 94+ trucks which leads us to our next sponsor...
John at Unique Diesel in Texas has been working with 6.5s for many years. He provided advice and the components needed to convert from the 1993 coolant system of the project truck to the 1994+ for the radiator to fit. Why switch? Well, don't. I only switched for testing due to slim availability at the time for an earlier radiator but John will have a pre-94 model available soon.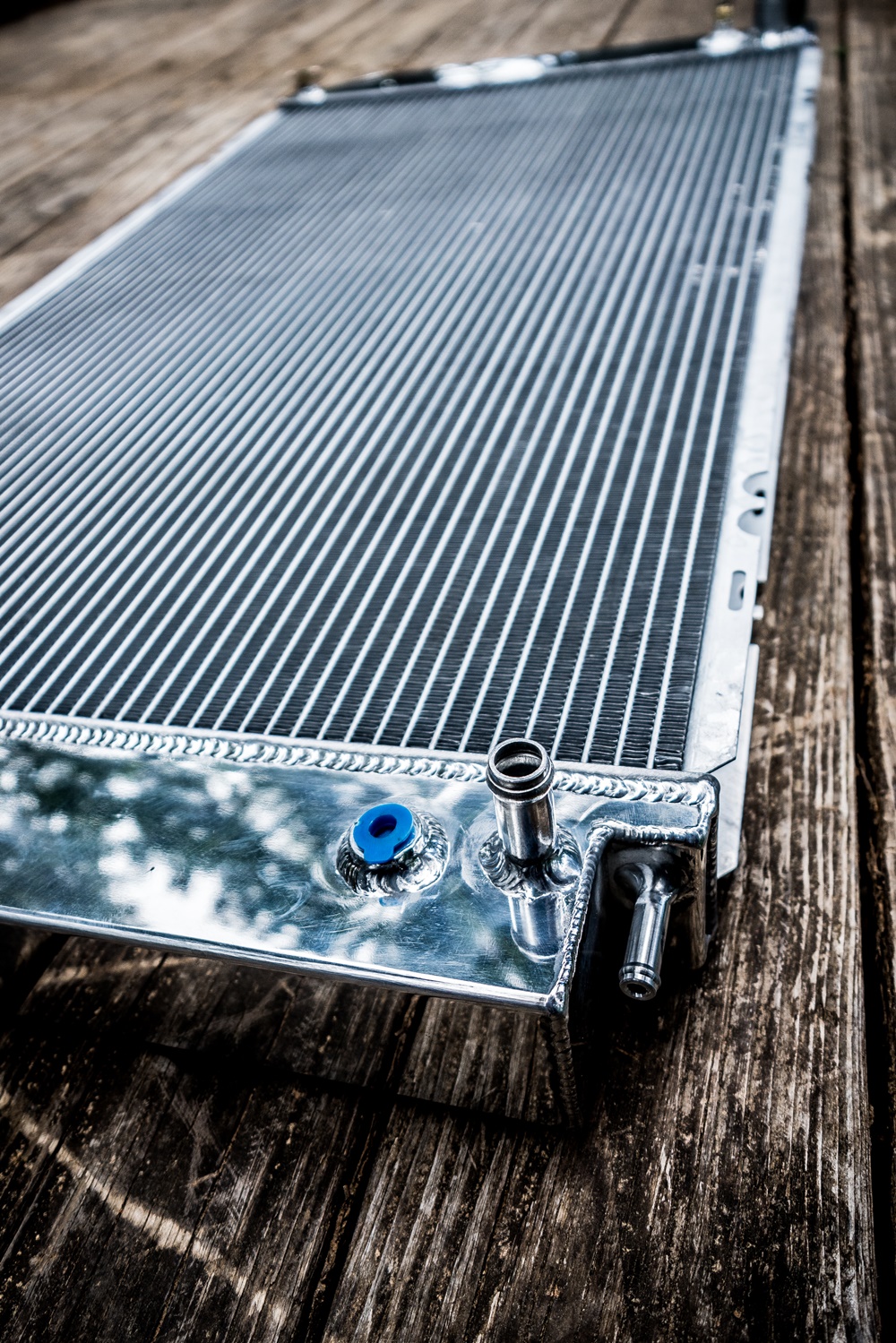 The 94+ radiator has no cap, just a hose nipple leading to the expansion tank where the cap is.
Why not just order the dang radiator and stick 'er in? Well I'm glad you asked you young greasy fingered truckers...

I had an opportunity here to do something that we don't always get to do that could, in addition to the standard cooling upgrades, help us to further understand the overheating issues that so many of us have dealt with. 
 Here's the plan...

Gather The Data!

For the first step I wanted to get data for contrast between the stock style radiator and the Champion by the stock gauge. While the stock gauge is notorious for being horribly inaccurate, we are looking for the change between the radiators, not the actual temp numbers themselves (that and a detailed install how-to will come later). 
For this I logged temperatures on a set route with the stock radiator towing a 5200lb fifth wheel. The route gave temps that range from flat freeway speeds and freeway hills to flat country highways and hills.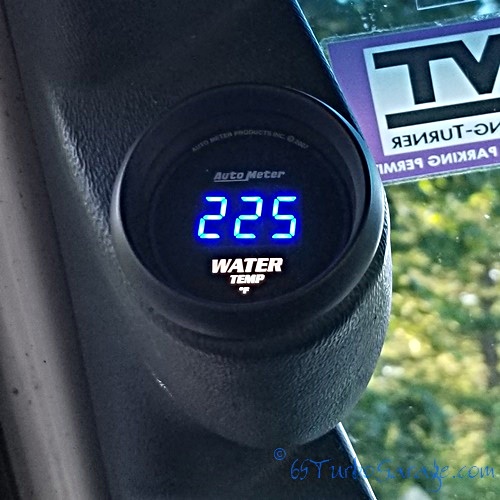 Autometer temp gauge at 225 degrees F with stock radiator towing 5200lb fifth wheel.
Then I installed the Champion radiator and ran the same route while gathering temp numbers at the same points on the route and the same ambient temperatures (or within a few degrees). We'll show that here.
For the next step that I'll add a little later, I'll gather temperature data with the Autometer gauges from the stock location at the drivers side head for accurate numbers and at the #8 cylinder to show the hottest part of the motor.
A few more words on the players...

John at Unique Diesel in Texas has been around the 6.5 world for quite some time providing 6.5 parts and services ranging from stock to high performance and has recently acquired all stock from Peninsular Diesel like their intake adapter that lets your engine really breath.
Champion radiators have been offering quality aluminum radiators in southern California (don't hold that against them) for over ten years now. In 2007, Robert Cloke started with his long-time friend Cid Martin making affordable all aluminum radiators for classic cars and trucks. Both being Christians, they created a family-type atmosphere for their future employees. You know that you are dealing with a person and not a company drone when you call and that personal touch shows in their product and throughout the time spent while I worked with them on this project.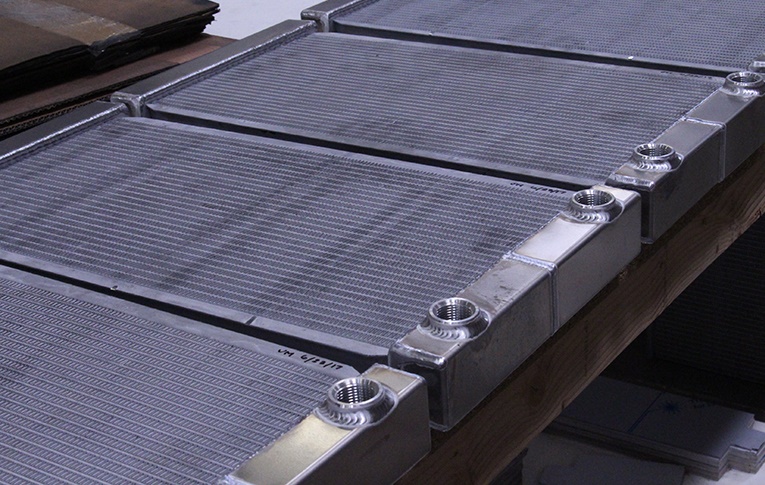 Champion Cooling Systems uses strict quality control
While I prefer to promote U.S. made products, it's understandable that overseas production is inevitable and quality control is the key. And it's usually the only way to keep costs at a reasonable level these days, at $260 (2018) it's worth a look if it will provide a quality radiator for our trucks. All Champion radiators are CAD designed and engineered in house, along with regular spot checks and a system of checks and balances make sure that all fittings, dimensions, and angles are correct.
There are counterfeit Champions out there, so be careful when buying or always buy directly from them or one of their distributors. 
If you are one of those that only buy U.S. products, I get it. Micheal says, "We also have a Race Series radiator that is 100% American made, using US made cores with fully fabricated and assembled tanks right here in our Custom Shop. These are in-house designs that are used for drag racing applications on full tube-chassis race cars."
Champions custom shop makes any radiator that you could need
When asked about the quality of metal used in the making of their radiators, Michael replied;
"When it comes to [aluminum] grades, we use a grade that meets two needs: must be workable, and can be welded. Our radiators are all TIG welded with fully brazed cores, and no epoxy. Lesser grades can't be welded, and some higher grades can't withstand the fabrication without stress cracking, so we make sure to use a grade that will allow custom fabrication and ease of assembly." And you can certainly tell the difference just by comparing the cap and tank mounting areas.

| | |
| --- | --- |
| Champion radiators are all tig welded with thick aluminum and no crimps or epoxy | Crimped and thin stock replacement radiators are sometimes epoxied |
      Most orders are shipped the same day on the lifetime warranty radiators so it seems you can't lose with a  Champion radiator but let's find out...
---
See Something You Like? Show Us Some Love!
---
Results!

We needed temperature data from two radiators; stock, and bare Champion.
We needed temperature data from three towing points; flat ground at steady speed, pre-grade, and post grade.
The rigs

I know most of you out there are going to be reading all of this with your own rig in mind for comparison so I want to remind you of this...

Even though they are 6.5s, they are still different trucks. Namely in two areas.
The motor: I'm running an optimizer with a 99+ balanced flow water pump, Hayden 2886 HD fan clutch, Duramax fan, Felpro .010 head gaskets, and NA precups, which may cause it to run much hotter than most. I also removed the seal at the back of the engine bay below the windshield to allow air to easily flow through and out.
The load: Many of you will be towing 5000 lbs or much more in the form of heavy equipment or other things that don't act like a sail working against you going down the road. Towing an RV is much harder on an engine. 
On the DOT scales, the RV weighed in at 5250lbs and the truck at 9250 while attached.
4.10 gears
195* thermostat
Equal pressure on all tires
The circumstances
2.3% grade at 2 miles long
81*-83* F Ambient temps
33% humidity
Since the stock gauge is notoriously inaccurate, has no continous numbers, and the temps almost always range between the first large scale mark and 210, I'll use "+1" for the first scale mark above the first large one, "+2" for the second mark above and so forth rather than trying to guess actual temperature numbers. After all, we're looking for the change in temps between the two radiators, not the temperatures themselves.
---
---
The simple numbers:

  Stock Style Radiator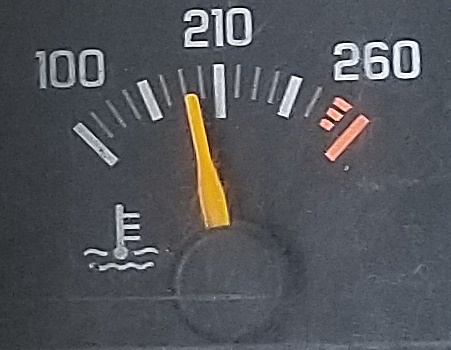 Flat ground at 70mph showed +2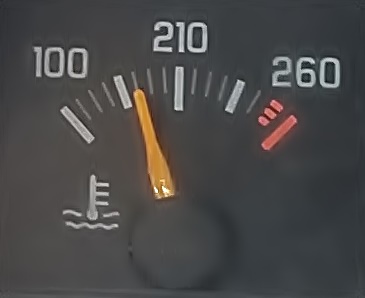 Pre-grade 63mph showed +1
Mid way up at 59mph showed +3 (one mark below 210) and 1100* egt so I dropped it down to 4th to be able to keep it cool to the top.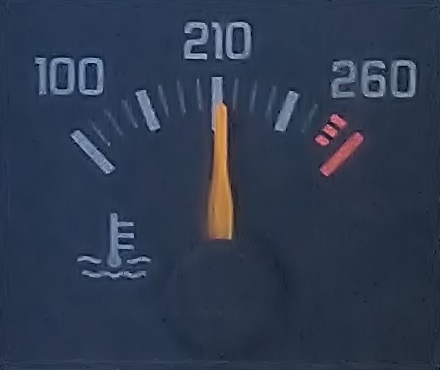 Cresting the grade at only 58mph showed temps hinting above 210. EGTs dropped to 775*.
Since the standard cooling upgrades, I never see heat soak so as soon as I let off the load at the top, it immediately started to cool. Although I may see heat soak under more extreme circumstances.
Update:
I recently took a 6 hour trip and rarely saw the temps above 200*. The most I ever saw was 201 on two occasions. This was with a Champion radiator coated with Twisted Steel Performance's thermal dispersant coating.

  Champion Radiator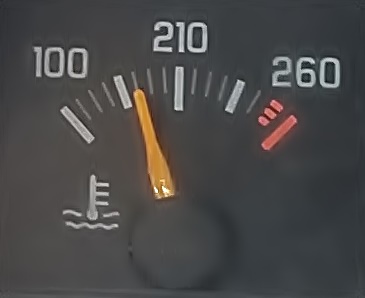 Flat ground at 70mph showed +1.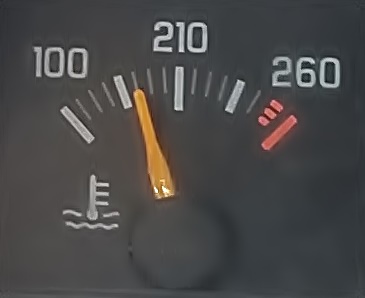 Pre-grade at 70mph showed +1.

Mid way up at 62mph showed +1.5 and steady 1050egt so I was able to keep it in 5th and maintain speed.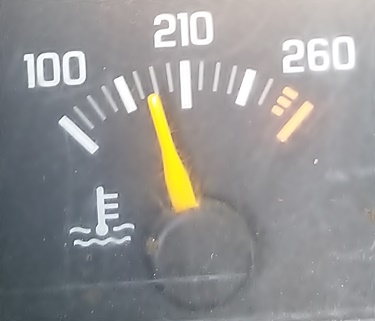 Cresting the grade at 68mph showed +1.75 and again, immediately cooled. 

Conclusion

So you can clearly see that the Champion radiator, even at higher speeds, was able to keep the truck cool to the point of barely even registering on the gauge which meant I could not only maintain speed but accelerate if needed. 

I can now completely ignore my ECT gauge (other than general sweeps of the gauges) when towing and am only limited by EGTs which can be easily controlled with the throttle. But really, we're talking about towing an RV up a grade and being able to accelerate before it becomes an issue so that's a totally acceptable limit to me. Hopefully changing the NA precups some day will help that even more. Some day soon I hope to run the same route and get some temps with water/meth as well.
One final word on radiator efficiency...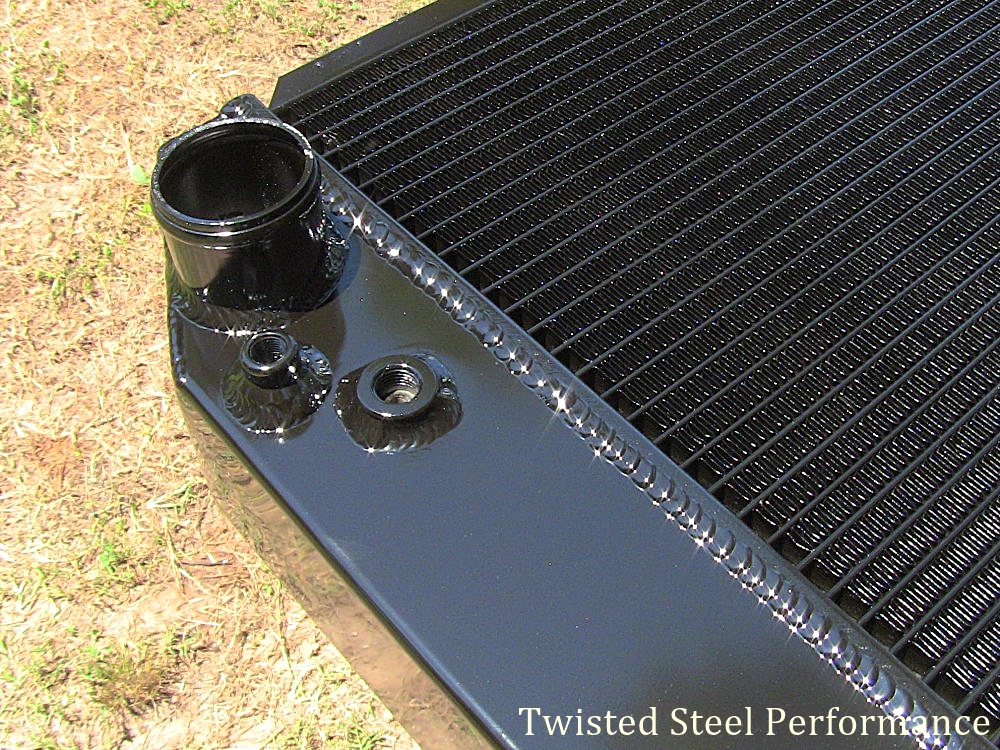 I happen to know of one crazy feller over on the east coast who has mastered the wizardry of space age coatings. One coating in particular has shown as much as a 33% improvement in cooling efficiency.  Another benefit is that if you have a vehicle that you don't want a shiny radiator in (some people don't like the bling), the only option you used to have was to coat it with something that would hurt the cooling efficiency of the radiator. You can see by the picture on the right that this coating gives it a very nice black finish. And of course, will not hurt the efficiency.
So if you're hauling in more extreme conditions than these tests were performed in and need every bit of cooling that you can get, John carries a coated radiator as well.
And if you're interested in getting things like your ac condenser, heater core, brake pads, or anything else that you want to expel heat, give Chris a call over at Twisted Steel Performance. He can coat just about anything you need.
---
So there you have it! Positive proof that the Champion Cooling Systems aluminum radiator, along with the standard cooling upgrades can give you maximum cooling for your 6.5 turbo diesel.

I suggest you give John a shout and get yours today and then follow along with the install here!
(Remember, your results may vary)
Now if only someone would do some testing on that coating. Hmmm...